HOME > Company > Business Philosophy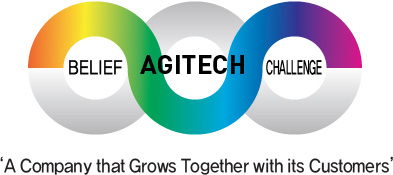 We would like to sincerely thank all of our customers
who have sent their kind attention and encouragement for Agitech.
Agitech is a specialist manufacturer of industrial agitators, mixers and various mixing equipment for all industries. Since its founding in 2000 and with its corporate philosophy of 'trust and challenge', the company gained strong technological competitiveness in various industries including chemicals, petro-chemicals, pharmaceuticals and electrical materials through the development of its own technologies.
Agitech designs, develops, produces and tests agitators, mixers and mixing equipment. In accordance with quality control system ISO9001, providing even better quality, Efficiency and reliability to its customers.
Agitech is always ready to satisfy the needs of its customers and is working to become a company that grows together with its them by devoting itself to researching and developing new products to meet ever-changing customer needs. We hope to be able to form a close partnership with our respected customers for promising future projects. Thank you.